We offer English Horseback riding instruction to students in both private and small group settings. Our experienced instructors work with all ages (3+) and levels. Beginners are welcome!

Life is busy! Therefore, we don't require you to sign up for a certain number of lessons. Ride as much or as little as your schedule and budget allow. For families who prefer a set schedule, we offer lessons Monday-Thursday and weekends. 
Cancellation Policy- We understand stuff comes up but asks for 12-hour notice, or you will be charged $25.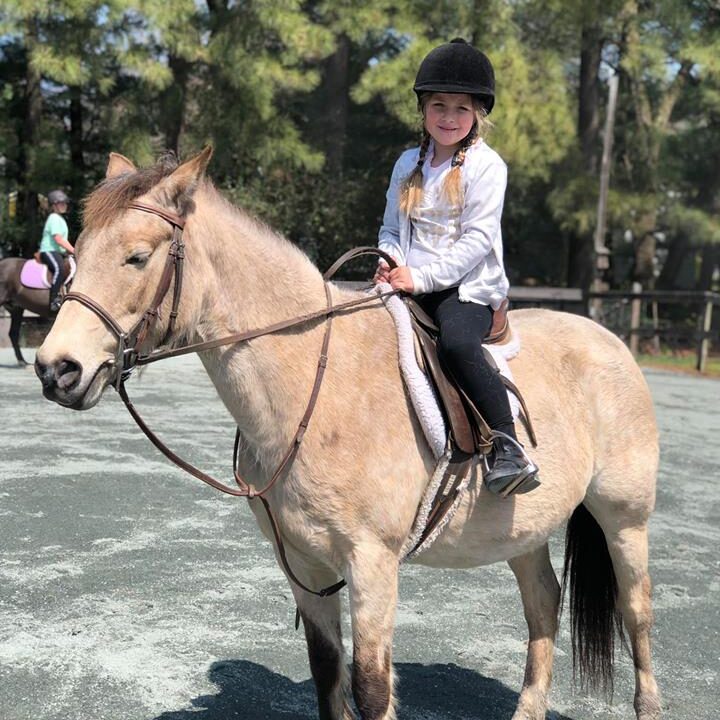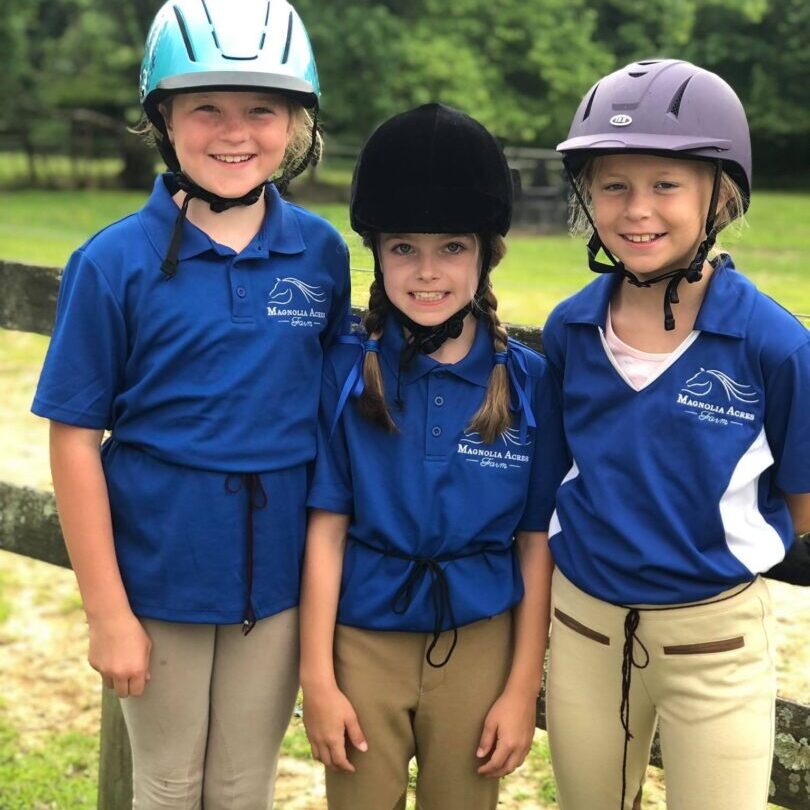 Group Lessons
Group lessons range in size from 3 to 5 riders. We encourage all students to come early to learn about grooming and tacking up their mounts. We strive to have the students ride for a full hour.
$50/hour
Semi Lesson- 2 riders
$45/ 1/2 hour
$55/ 45 minutes
Private Lesson
$50/ 30 minutes

Preschoolers- Ages 3-5 
We are offering discounted shortened private lessons to get young riders comfortable in the saddle through a 15-minute riding lesson where riders can get acclimated.

Our Horsemanship & Riding Programs will be held at the same time for a 4-week session. Horseback riding lessons are very social as well as physical. Classes help build friendships both human and equine. It's a great way to earn PE credits. We are forming classes now. To register, please email [email protected].
Classes will be held for 4 consecutive weeks unless otherwise noted. There will ONLY be ONE make up session except for weather cancellations. Classes will start in March, days to be announced. 

Introduction to Horses-($95)
This program is designed to help those that are timid to become more comfortable working with the horses. We will spend the 4 weeks learning safety, grooming, handling, nutrition, and overall care for the horses. We will have activities to learn about breeds, science, and markings. This program doesn't include any riding except in the last class. The class will be 30 minutes. Classes will be offered on Tuesday & Wednesday at 12pm.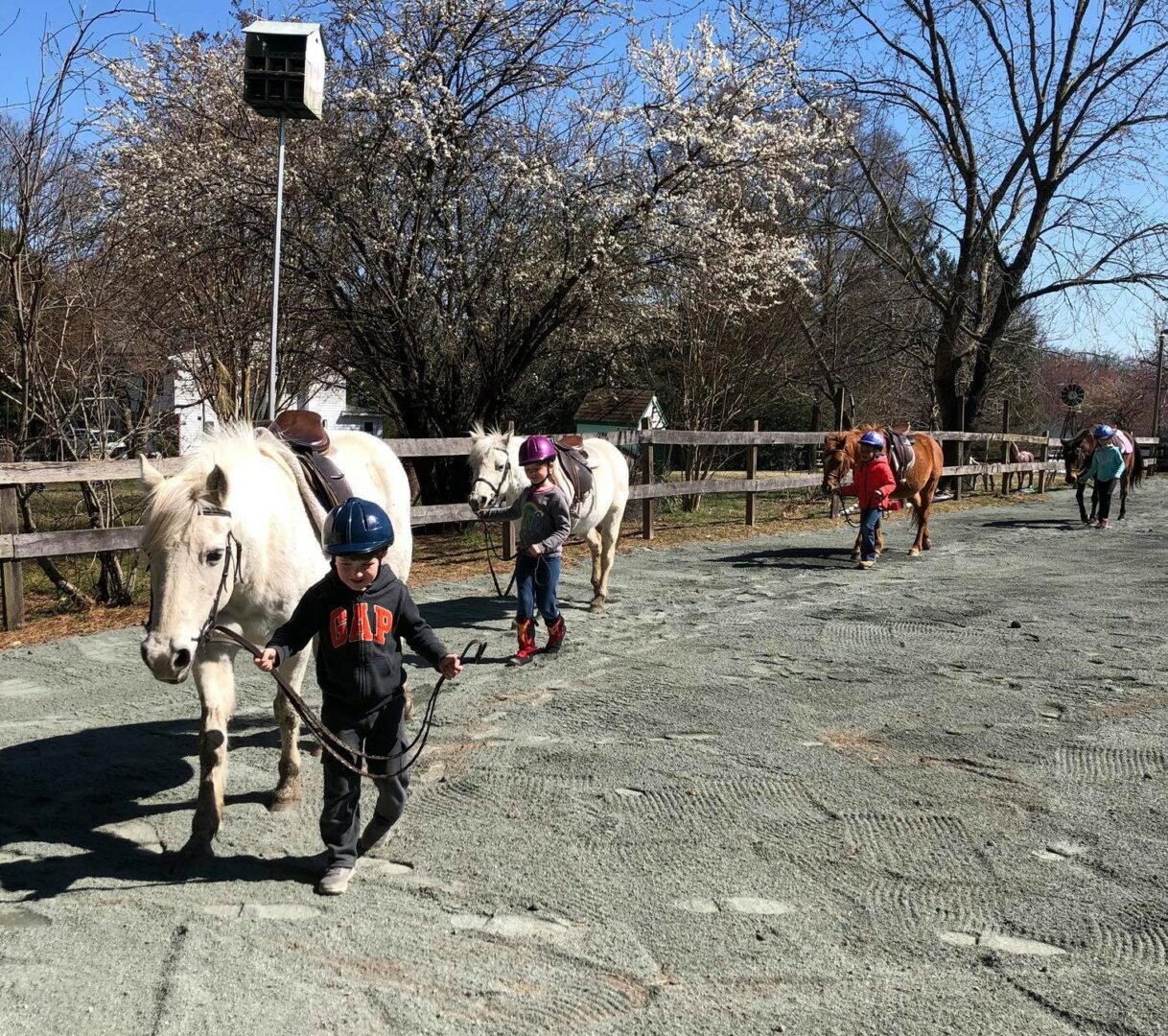 Horsemanship and Equine Science Program- Level 1- ($180)
During this 4-week program, students will be immersed in the world of horses. We combine horsemanship with equine studies to create a complete education. We give the students handouts to review prior to each class. By reviewing the worksheets, the rider will have a better understanding of horses and basic riding. Each week the rider will spend about 1/2 the time working with the horses to become comfortable around them. After the groundwork is complete, they will have a riding lesson. Since students progress at their own rate, we will tailor the riding portion accordingly.
Hands-on Part
Riding Portion
Week 1- Safety & Horse Behavior
Position & Balance
Week 2- Grooming and Equipment
Balance- 2 pt position, Guiding
Week 3- Horsemanship
Sitting Trot
Week 4- Horse Care & Nutrition
2pt. Trot

Riding Lesson Program- Level 2- ($190)
This is designed to further improve the rider's skills. This is for riders 5 & older who have completed level 1. We will spend the first few minutes of each lesson reviewing what was taught during the first level- such as safety, horse behavior, proper grooming & tacking up techniques. During this program, we will focus on further developing their seat, balance, and control. The goal of this program is to have riders mount/dismount, walk, perform different trots and continue jumping small obstacles with balance and confidence. 

On Farm Horse Shows
We will have one in the Spring and a Halloween and Thanksgiving one. Dates TBA

The "Horse Lovers" Badge can be earned in one lesson for Junior Girl Scouts. For younger groups, they can work towards earning their Animal Helpers Badge. Awesome experience for younger groups to be outside on the farm. Each program is tailored to the group. Upon arrival, the scouts are given a short lecture about the horses, instructor's experience and history of our farm. We discuss horse safety and review of safety rules.
The Scouts will participate in the following activities.
Depending on the size of the group, it should take approximately 1 1/2 to 2 hours. Larger groups will be broken into smaller groups. While one group has their riding lesson, the other groups will be busy with activities.
The cost to earn this badge is $45/rider.